Top 5 best hybrid cars to lease in 2021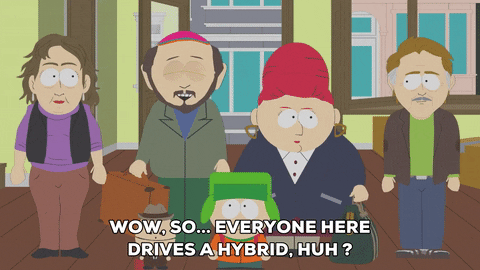 While everyone might suddenly seem to be in a rush to get an electric car, hybrid's remain a popular choice as they allow for emission-free motoring when it's most needed without the potential range anxiety or need to plug in.
With most new models coming in mild-hybrid form now – meaning the car can store then use energy normally lost when decelerating – and more manufacturers offering Plug-in Hybrid's in their range, for clarity the cars below are all full hybrid: this means they can travel short distances on electric power only and are ideal if you experience lots of gridlock in your commute.
Here's our pick of the best hybrid cars to lease in 2021:
Toyota RAV4
It's safe to say the RAV4 got its mojo back when the fifth-generation model was released in 2019.
Comprehensively restyled with a more chunky and rugged look, the traditionally diesel SUV debuted as a hybrid-exclusive for the first time ever leading to a lot of raised eyebrows. A new look, a new engine, it's safe to say the RAV4 had a lot to prove.
As one of the best hybrids on the market, we'd say it proved any doubters wrong. Easy to drive, the 2.5-litre petrol-hybrid AWD model produces 221hp, resulting in a 0-62mph time of 8.1 seconds.
The thing that impresses us the most is the miles per gallon offered, with the SUV averaging 51mpg combined. When you also factor in its power output of 221hp, the credentials for an SUV of this size and class impress even more.
Kia Niro
Although it has undoubtedly been outshined by its all-electric e-Niro stablemate, the Niro stands out as a great example of a modern hybrid and what they can offer to motorists.
Not quite an estate, not quite an SUV, the Niro's design hammers home its role as a hugely capable family car. Offering a combined mpg of 58.9, it out-performs the RAV4 in efficiency but can't compete when it comes to power, only offering 139hp for a 0-62 of just over 11 seconds.
The Niro has been well received by the motoring public though, helping it to rank fourth in Auto Express 2020 Driver Power survey. Throw in Kia's seven-year/100,000-mile warranty for good measure and there's plenty it can offer.
Hyundai Kona
Recently refreshed and reimagined, the hybrid Hyundai Kona suffers the same fate of the Kia Niro in that it has been somewhat overshadowed by its all-electric brethren.
In spite of that, in hybrid form it's arguably the most accomplished all-rounder on this list. Fresh new design enhancements on the exterior complement the cutting-edge connectivity features on the interior, while the hybrid system seamlessly switches between the conventional engine and electric motor.
Even better, as part of the regenerative braking system, the electric motor also helps slow the car while charging the battery. This leads to an impressive 56mpg making it an ideal replacement for any diesel SUV.
Honda Jazz
Honda's fourth-generation Jazz has impressed journalists and motorists alike since its launch last year.
Building on Honda's experience in the field, it features one of the most innovative hybrid systems available, allowing the car to drive from 0-12mph in pure electric mode, switching to hybrid power between 12-30mph, and moving to the 1.5l petrol engine up to the speed limit. Regenerative breaking then captures and stores energy to top up reserves.
All of this is housed in an unassuming-yet-sensible city car, that's more spacious than you might think. If you value your cars being economical, reliable and safe too then you can't do much better. It also happens to be one of the cheapest hybrids on the market.
Renault Clio
This list may be dominated by Asian manufacturers, but that makes the Renault Clio's appearance all the more impressive.
As one of the few fully hybrid superminis on the market, marking it out as unique within the segment, Top Gear state it's the most mature Clio to date. The drive itself is effortless, with the Clio's optimum found in the low-to-medium range where the electric motor easily transitions to the hybrid system without the driver even noticing.
With its two electric motors to back up the 1.6-litre petrol engine, it offers an official fuel consumption of 64.2mpg. That's better than others on this list, making it cheaper to buy and run than a diesel, and might be reason enough for you to opt for it. It's certainly reason why we think it's worthy of being voted one of the best hybrid cars available.
---